We have two shelf elves who like to get into Christmas michief: a boy and a girl. They are both into something all of the time from the morning after Thanksgiving until Christmas day.  While the boy is a little rascal, the girl occasionally does some sweet things. We got our elves at Amazon.com for about $30 a piece.  They come with a book and you can register them online at elfontheshelf.com. You can also get the elves at http://elfontheshelf.com/SantasStore.aspx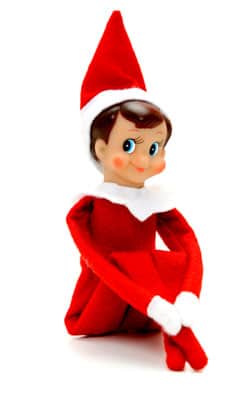 Here's my ongoing list of Elf Shenanigans to keep the fun going throughout the Christmas season. Since there are two, the impish pair often get into devilment together.  But sometimes, they go their separate ways, stirring up trouble while my son Joel is sleeping at night.
1. Tape toilet paper across bedroom door like crime-scene tape, so that Joel will have to break through it to get out
2.  Snowball fight with marshmallows
3.  Taking photos of themselves with Mom's good camera
4. Make flour snow angels on the countertop or play in a box of fake snow we have
5. Hanging from a light fixture with a candy-filled cane
6. Eating candy off the gingerbread house
7. Taking the TP and running with it throughout the bathroom and living room
8. Read something on the Kindle
9. Load and play a Christmas game on the iPad
10. Play a new board game (this is good for Friday – so we can play the game during Family night)
11. Drive Mom's car (maybe leaving it outside of the garage)
12. Make a mess fixing hot cocoa with marshmallows. They leave little cocoa footprints on the counter.
13. Eat Christmas cookies (they are messy eaters)
14. Make a fuzzy sock hammock between candlesticks to sleep on
15. Tie Joel's tennis shoes together
16. Build a zipline with a candy cane.  String can hang from tree to fireplace or across Joel's loft bed.
17. Play Christmas music on piano
18. Listen to Christmas tunes on the iPod
19. Pull all of Joel's underpants out of his drawer and hang them up all over his room and the living room
20. Play with legos and other toys, leaving a mess
21. Leave a note or a letter from Santa
22. Load photos onto the family computer
23. Fill the bathtub with white balloons
24. Open someone's gift
25. Wrap a gift but leave the scissors, tape, wrapping paper out and about
26. Ride the Christmas train
27. Hang a new wreath on Joel's door
28. Hang a new ornament on the tree
29. Leave a bag of holiday Kisses or M&M's on Joel's desk
30. Pack a fun lunch for Joel to take to school
31. Dress up in costumes (doll clothes or things they make themselves with paper/scissors/fabric)
32. Write a message on Joel's mirror (use white-board pens.)
33. Watch a new movie on the VCR (and leave the movie out so we can watch it together that evening.)
34. Make a fort out of all of Joel's socks
35. Hang from a helium balloon
36. Make a Christmas craft or ornament and leave supplies so we can make some too
37. Fold holiday origami figures
38. Turn the milk in the milk jug red or green
39. Have a silly string fight on the patio furniture (red and green silly string)
40. Open all of the mail in the mailbox and get caught out there
41. Pull out the telescope and set it up to stargaze
I'll add to the list as I think of more fun ideas for them.  I'm planning to do a scrapbook of elf mischief this year.  I'll post the photos and pages as I complete them.